Bootlegger Bistro
*Temporarily Closed due to fire situation in the area*
We are pleased to announce that this coming year we will be opening the Bootlegger Bistro at Back Door Winery on Hwy 97 in Summerland, BC. The bistro will be serving Roma Pizza Slices, Italian Panini, Charcuterie Boxes, Granny's Pies, other snacks, Espresso Bar (hot or iced lattes, americano, and cappuccino) homemade fruit lemonade and iced tea. The Bistro is operated by Mike Boersma and Adrienne Betts who also operate Granny's Cafe & Bakery as well as Rinkside the concession at the Summerland Arena. They bring success and experience to the exciting new spot Bootlegger Bistro.
-- Spring 2023 Menu --
Italian Panini - $12.50
Classic: homemade ciabatta, italian cheese blend, capicola ham, red pepper spread,
Amore: homemade ciabatta, prosciutto, salami, italian cheese blend, roasted red peppers, baby spinach
Veggie: italian cheese blend, roasted red peppers, baby spinach, thin pickled red onion, spicy eggplant
Tuscan: roasted chicken, italian cheese blend, basil & sundried tomato pesto
Vespa: Prosciutto, italian cheese blend, arugula, tapenade, drizzle balsamic
---
ROMA Slice - $7.50 Granny's homemade dough & pizza sauce.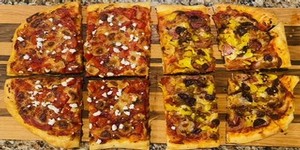 Sweet Ride: pesto, house made caramelized onions, brie cheese, ripe pear
Peach Please: pizza sauce, Okanagan Peaches, prosciutto, mozza, banana peppers, chili flakes
Ogopogo: pizza sauce, cherry tomatoes, basil, garlic, goat cheese, honey drizzle
Diavolo: pepperoni, diced bacon, banana peppers, chili flakes, bell peppers
*available on a daily rotating basis
---
Charcuterie Snack Box - $9.50 small, $14.50 medium, $23.50 large
A combination of cured meats, cheeses, local fruit, Granny's homemade bread, crackers, olives, pickles, chocolate, nuts, pretzels, hummus, veggies
---
Popcorn - $4.00
Made in house movie theatre style
---
Granny's Pie - $5.50
Individual fruit pie 4" tart
add vanilla ice cream $1.50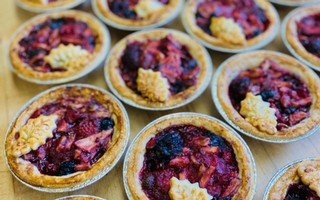 ---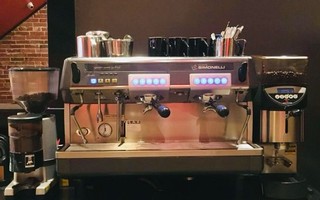 * Full espresso bar with hot and iced drinks (lattes, americano, cappuccino). Homemade Local Fruit Lemonades and Iced Tea.