*The following is a true story, except for the parts that were made up.*
Our Story
Behind every door lies a story. And, behind every great story, is a little bit of history.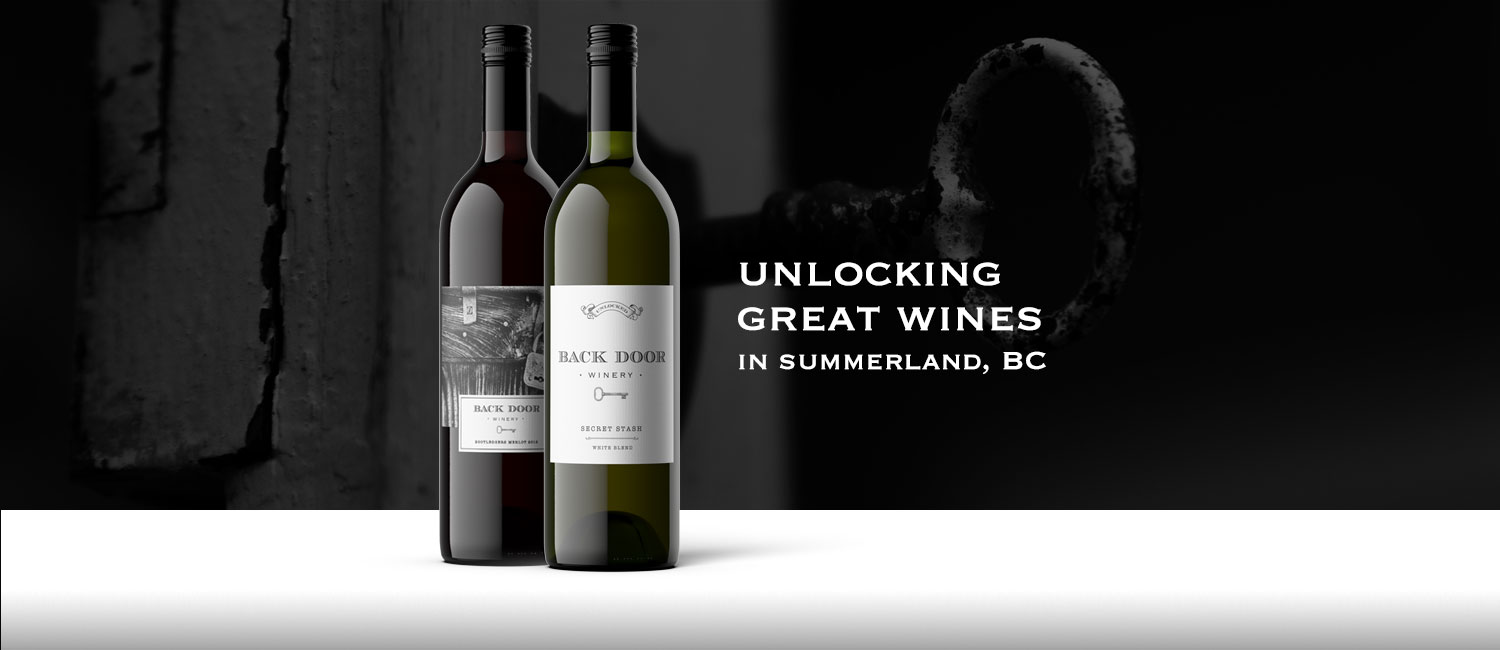 This is one about a dry town that met the conditions under the Liquor Act regulating the sale of wine and booze. An unsullied region except for soaking in the beautiful sunshine, getting drunk off the heat. At least on the surface.
According to an overseas visitor, who wrote home during this time of prohibition in Canada, Summerland still had its 'allurements.' Patrolled heavily by the Dry Squads looking to catch people transporting illegal loads of liquor across the border - booze runners moved methodically and through back doors.
Back Door Winery takes you back to a time when your favourite wine was a wanted criminal. Locked up and prohibited from enjoyment, except for a few covert locations. Places like the Victoria Cafe, where owner Thomas Figgis was found guilty of selling whisky from his establishment. Booze was also flowing in the nearby town of Penticton at The Shasta and Ma Sherridan's. Then there was one entrepreneurial orchardist on Jones Flat Road who had the keys to unlock great wines to serve the thirsty people of Summerland.
Using a peach orchard as the front to hide barrels of wine, only those who were trusted were given the secret knock at the back door that gained them entry. They were then met by the orchardist who would lead them to a door, only unlocked by the key hanging around his neck. The cellar was lined with what seemed like never-ending wine casks where thirsty individuals would mingle with others while having a nip or two.
Although these operations were undercover, the Summerland Review reported there was an air of disappointment in the community after a vote by the citizens kept the place dry. Railroad workers, rumrunners and the defiant peach orchardist kept the area well stocked under the shadows, despite the ruling.
It wasn't until 1953 that times began changing for Summerland. The first official licensed liquor store opened, as government policy stated there should be one in every community where a bank operates full-time.
Back Door Winery is owned and operated by Jesse Gill. They worked in the lumber industry on Vancouver Island and began berry farming in the Fraser Valley in the early-1980s. They purchased Double Barrel Vineyards, nestled between Oliver and Osoyoos, in 2008. When the opportunity came around to expand, the perfect piece of property was available on Jones Flat Road in Summerland. In 2020 they took over the vineyard to unlock the great wines from the grapes grown on the terrain.